These Republican lawmakers have introduced bills to weaken privacy.
You should have a choice whether a company uses photos of you or your family; you should be told when a company provides thousands of other companies and government entities access to photos of you.  There should be a law against this invasive use of your image and biometric data.  There is.  Illinois has one of the toughest biometrics laws in the country–the 2008 Biometric Information Privacy Act  (BIPA). The New York Times recently published a great piece about the importance of Illinois' BIPA law: The best law you've never heard of.  The author, Shira Ovide, writes about BIPA:
"The law's text is simple but profound, Adam Schwartz, a senior staff attorney with Electronic Frontier Foundation, told me.

First, companies behind technologies like voice assistants or photo recognition services can't use people's biometric details without their knowledge or consent. Few American privacy laws go this far — and probably none will again. Typically we must agree to whatever companies want to do with our data, or not use the service.

Second, BIPA forces companies to limit the data they collect. Those two principles are in Europe's landmark data privacy law, too.

And third, the law lets people — not just the state — sue companies."
These Representatives introduced two bills to weaken BIPA:  HB560  and HB559. Durkin, Caulkins, and Bennett's bills would make it almost impossible for you to sue the companies who misuse your biometric information. For information on how these bills would weaken BIPA, see this coalition letter opposing these bills.
HB559 recently passed out of committee on a 10-5 vote with 5 Republicans and 5 Democrats voting yes. This article from the Capitol News Illinois says this about HB559 the bill to gut BIPA: 
"Opponents are more concerned that the bill will render the existing law useless.

Sapna Khatri, advocacy and policy counsel for the ACLU of Illinois, noted that BIPA has been called the most effective and important privacy law in the country because of its simplicity.

"We are here because BIPA is working precisely as it was intended," Khatri said. "This (new bill) is prioritizing corporate profits over personal privacy and granting companies wide latitude to collect and exchange our biometric information like currency. This is not a solution."

Opponents to HB 559, such as Rep. Ann Williams, D-Chicago, and Rep. Jennifer Gong-Gershowitz, D-Glenview, argued that as technology advances, BIPA as it stands is imperative to protecting Illinois residents' most personal private data.

"At a time when our neighbors and other states are modeling legislation around BIPA and issuing bans on the use of invasive biometric technology, like facial recognition, HB 559 presents a massive step back for Illinois," Khatri said."  [emphasis added]
What could have possibly enticed10 Illinois lawmakers to vote yes on this bill despite 266 people signing up to oppose HB559, while only 14 "people" (ie: Chamber of Commerce and the Illinois Civil Justice League-whose mission is to reduce the number of civil lawsuits) signed up in favor of HB559?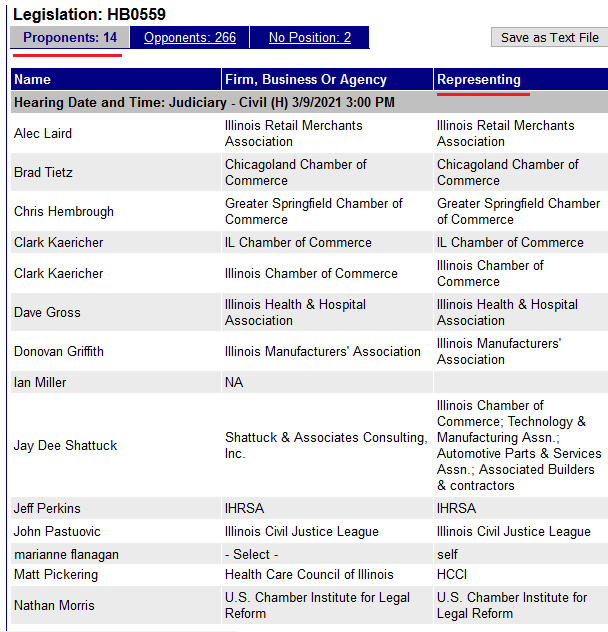 Why is this happening now? 
You may have read about companies like the facial recognition company Clearview AI who take photos shared on social media and then, without your permission, scrape up your family photos to add to their database. Clearview AI is facing several class action lawsuits  here and here and here, and this lawsuit in California that alleges:
 "The sheer volume of online photographs Clearview scrapes to capture faceprints for its database makes it a near certainty that anyone whose photographs are posted to publicly accessible portions of the internet will have been subjected to surreptitious and nonconsensual faceprinting.

The suit claims Clearview has "illicitly" and "illegally" collected more than three billion photos of "unsuspecting individuals," giving it a database nearly seven times bigger than the FBI's. 

Clearview has provided thousands of governments, government agencies, and private entities access to its database, which they can use to identify people with dissident views, monitor their associations, and track their speech," the suit alleged. "Its mass surveillance technology disproportionately harms immigrants and communities of color."  [emphasis added]
Clearview AI is not the only company scooping up your pictures for facial recognition. In a January 2020 class action decision, Facebook was found to have violated Illinois Biometric Information Privacy Act (BIPA) law and had to pay half a billion dollars: 
"The Illinois suit was filed in 2015, alleging that Facebook collected facial recognition data on images of users in the state without disclosure, in contravention of the state's 2008 Biometric Information Privacy Act (BIPA). Similar suits were filed against Shutterfly, Snapchat and Google."
We all lose if BIPA is weakened.  
Illinois has had one of the toughest biometrics laws in the country for 13 years–and with the increase in surveillance technology, other states are patterning bills after BIPA. Now is the time to increase (not weaken) privacy legislation.  After big companies like Facebook and Clearview AI got sued for illegally scraping people's photos, there are suddenly bills in Illinois to weaken BIPA. Will these industry folks weaken privacy bills in your state, too?  Don't let them.   
Illinois lawmakers should not make the mistake of weakening privacy rights. HB559 and HB560 should be stopped. Laws and elected officials should protect people, not corporate interests.
What you can do
If you are an Illinois resident, call your state rep and your state senator, tell them you are their constituent and urge them to oppose HB559 and any bills that weaken the protections of BIPA.
For anyone, call the leadership in the IL House, in particular new Speaker of the House Chris Welch and Minority Leader Jim Durkin, the chief sponsor of the bill.   
Speaker Welch (217) 782-5350 and (708) 450-1000
Leader Durkin (217) 782-0494 and (630) 325-2028
You can find the list of House leaders in each party here and all of their contact info is listed in this directory. Tell them that BIPA is the most protective privacy law in the US and putting corporate profits over protecting individual's freedom is doing a disservice not just to Illinoisans but to anyone who values the Constitutional right to privacy. 
Sign up for legislative action alerts from