Zoom for Education has been adopted by thousands of schools nationwide. Zoom began marketing to K-12 schools in November 2019, prior to the  Covid pandemic.  Zoom also created a website specific for education:  https://zoom.us/education.  Zoom has referred to its education platform as a Zoom for K-12 service  but apparently rather than face data privacy and transparency requirements for contracted school service providers in Colorado law,  Zoom NOW claims they are not a school service.  More on this below, but first we'll focus on Zoom's third party data sharing and cookies.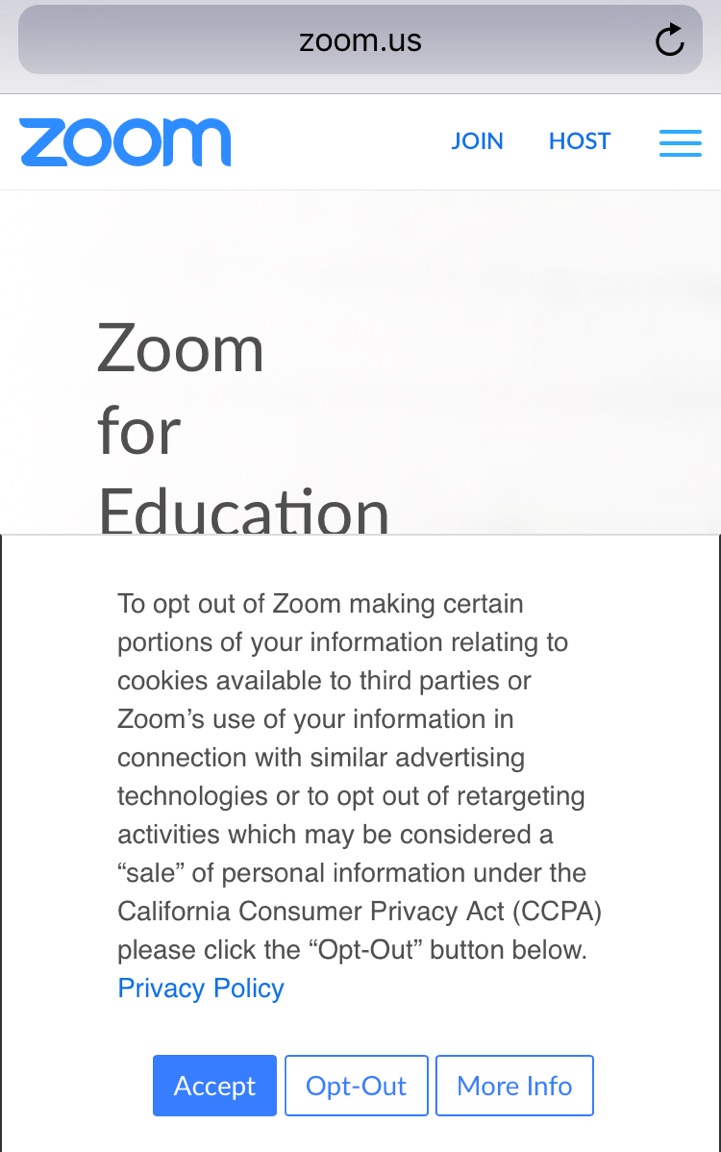 When you visit the Zoom for Education webpage, you will see a pop-up box asking if you want to opt-out of third parties using your information–DON'T IGNORE THIS WHEN YOU SEE IT; this alert doesn't appear every time you visit the page.   Every parent and school district, education official should click More Info and review the cookies on the Zoom for Education website.    WHY?  Because Zoom allows third parties to access student data. In fact, prior to July 2020 and  Zoom's most recent update to its K-12 privacy policy, Zoom apparently allowed third-party advertising cookies on its Zoom for Education platform.  Common Sense Media actually warned about Zoom's third party  targeted advertising in April 16, 2020.  Common Sense stated,
"…there are still privacy issue areas where Zoom falls short, including its limited, but still targeted, use of advertising and third-party tracking that may affect students in K–12. (Ads don't appear on Zoom itself but on other sites kids visit after using it.) "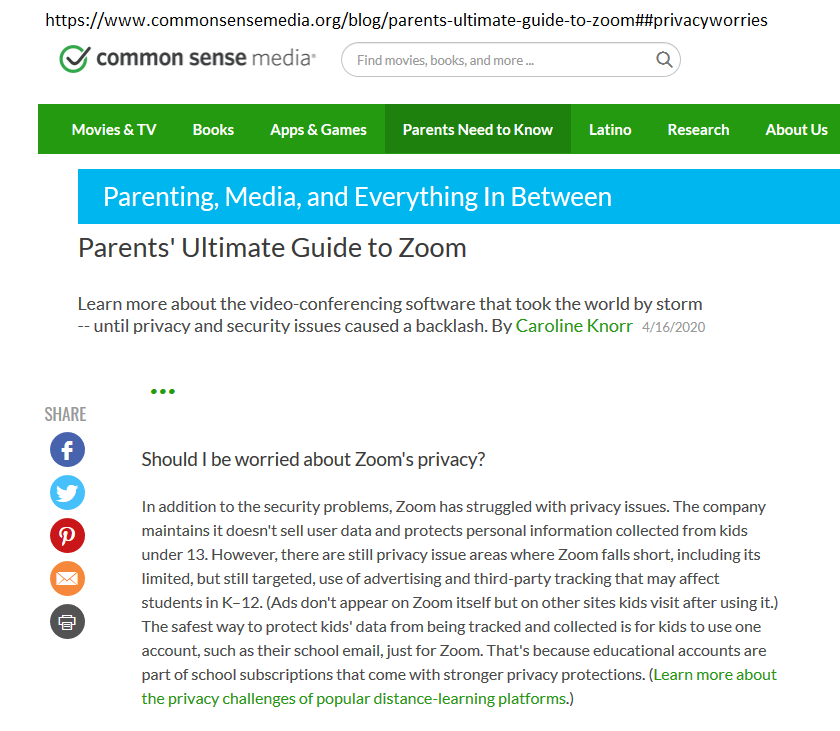 Similarly, this March 17, 2020  New York Times  article entitled  We Live in Zoom Now,  also warned about Zoom's use of student data for advertising, quoting Jules Polenetsky, CEO of the Future of Privacy Forum, as saying,
"The standard Zoom privacy policy allows data to be shared for targeted advertising," Mr. Polonetsky wrote in an email interview. And some of the company's standard terms are not consistent with the Family Educational Rights and Privacy Act, or FERPA, "in addition to many of the 130+ state student privacy laws passed since 2014"
Interestingly, the next day after this NYT article,  Zoom updated its K-12 privacy policy on March 18, 2020. This March 2020 version stated that,
"We only collect students' Personal Information to provide the Zoom for K-12 service to the School Subscriber, not for marketing or advertising, and, with the limited exception of our service providers, we do not share Personal Information about K-12 students with other parties"

"… Zoom and/or our third-party service providers also automatically collect some information using methods such as cookies. Information automatically collected may include Internet protocol (IP) addresses, browser type, Internet service provider (ISP), operating system, and date/time stamp. We use this information to provide and support the Zoom for K-12 services. We do not use this information to deliver advertising or for any other purpose not related to the delivery and support of the services."  
On April 9, 2020, Zoom again changed their K-12 privacy policy to this version, which made a few changes but kept the same quoted language above, stating that Zoom does not collect student pii for marketing or advertising.
However, Zoom changed its K-12 privacy policy AGAIN  to this July 2020 version.  This July version made substantial changes.
Students under 16 CANNOT create Zoom accounts.
The July 2020 K-12 Privacy Policy states:
"Student Users are not permitted to create K-12 Accounts but may use the Services when invited to join a meeting hosted by a K-12 Account User.  Although Zoom prohibits children and teens under the age of 16 from creating a Zoom account (and employs an online age screen to support this restriction), Student Users, even if under the age of 13, may join a meeting hosted by a K-12 Account User. School Subscribers are responsible for obtaining any parental consent necessary for use of the Services under their K-12 Accounts by Student Users, including children under the age 13."
Hopefully K-12 schools, parents, and students are aware of this clear wording and will take heed.  Apparently in their rush to virtual learning during the Covid 19 Spring shut down,  some K-12 schools required students to download the Zoom App and create their own Zoom account- using their school email- in an effort to decrease Zoombombing.  As EdSurge reported in March of 2020, "Students should never be making an account in Zoom,"  "That's where it can get districts into trouble." 
No more advertising or analytics.
Another change in the July 2020 K-12 privacy policy :  "There are no third-party advertising or analytics cookies on Zoom's product pages."   That is a big change; how do we know Zoom is honoring this and what about all the months prior when advertising cookies were apparently opted-in on Zoom's K-12 product pages?  (What's a "product page" and is the Zoom K-12 privacy policy page a product or marketing page? See our analysis and trackers found, here.)

When you click on the More Info link on the pop-up notice, Zoom for Education now automatically opts-out advertising cookies but that was not the case previously, as you can see from this April 2020 screen capture that shows ads were opted-in.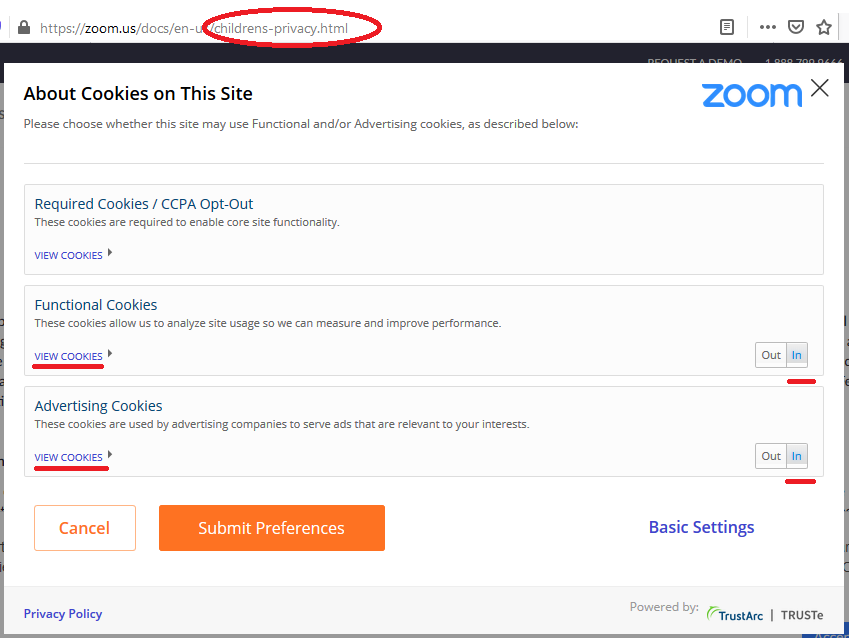 And here is a list of the Advertising Cookies on the Zoom for Education page that apparently prior to July 2020 were automatically opted-in, ( we underlined in red), and allowed  cookies "to serve ads relevant to your interests" unless the user clicked the opt-out box.

Why all the changes to the K-12 privacy policy?
Zoom for Education has changed its privacy policy several times, which itself raises serious concerns. Here are some of the privacy and security "mistakes" and concerns with Zoom that have already been reported.  One such concern related to the fact that while Zoom's K-12 privacy policy originally claimed that student data was not used for advertising and student data was only used for educational purposes, the automatic opt-in to advertising cookies implied the opposite.  Was sharing student information with Facebook and LinkedIn, or Twitter, Yahoo, Walmart, Microsoft Advertising, Nielsen Marketing, Google DoubleClick ads really an educational purpose?
Here are a few privacy and security Zoom issues in the news:
So, is Zoom "safe" now?
Common Sense Media recently wrote this July 14, 2020 piece, Privacy Risks of the Top 5 Distance Learning Apps, which evaluated privacy features of Zoom, Apple Facetime,  Microsoft Teams, Google Hangouts, and Cisco Webex.
Common Sense gave Zoom the highest overall privacy rating.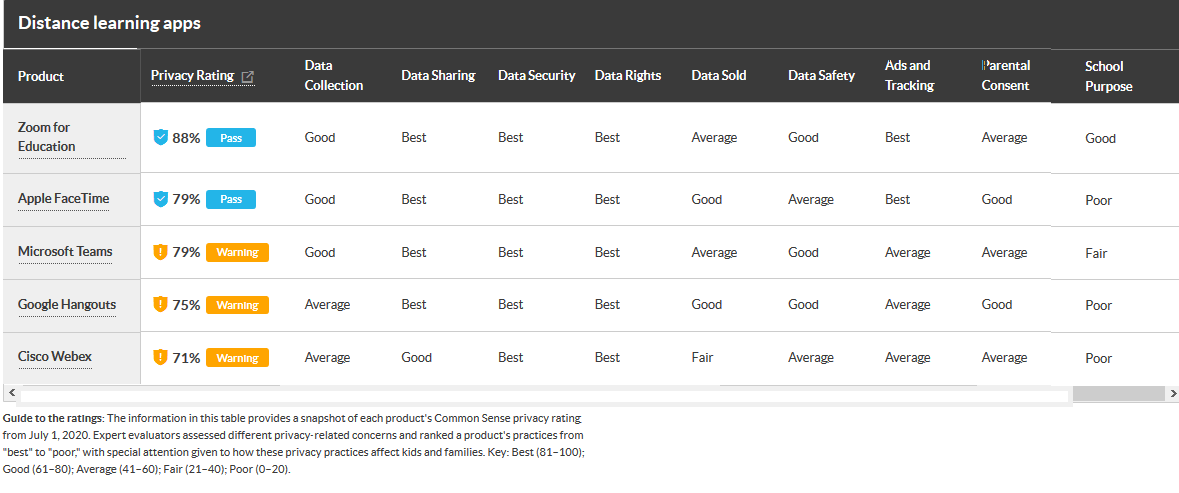 In looking at Common Sense Media's Privacy Evaluation of  Zoom for Education,  you can see they say that Zoom is clearly being marketed as a School Purpose and intended for students,  "primarily used by, designed for, and marketed toward students in grades preK–12."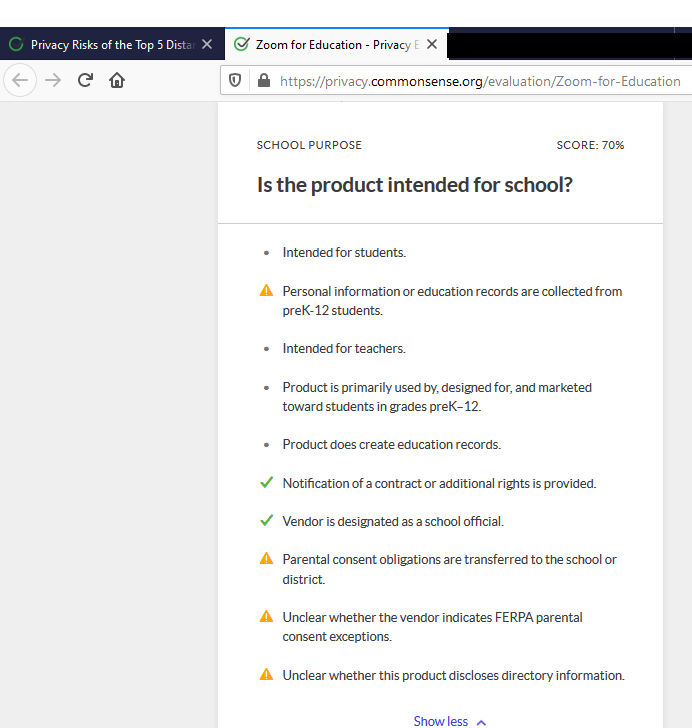 Common Sense Media gave Zoom for Education a high rating for privacy even though  they admit to the following uncertainties:
User information can be transferred to a third party.
Unclear whether users are notified if their information is transferred to a third party.
Unclear whether user information can be deleted prior to its transfer to a third party
Unclear whether the vendor describes their deidentification process of user information.
Unclear whether data are shared for research and/or product improvement.
Unclear whether contractual limits prohibit third parties from reidentifying deidentified information.
And when they ask if there are advertisements or tracking, they say:
Traditional or contextual advertisements are displayed.
The vendor can send marketing messages.
The vendor does provide promotional sweepstakes, contests, or surveys.
Users can opt out of traditional, contextual, or behavioral advertising.  [should be opt-in for student advertising]
Users can opt out or unsubscribe from marketing communications.   [should be opt-in for student advertising]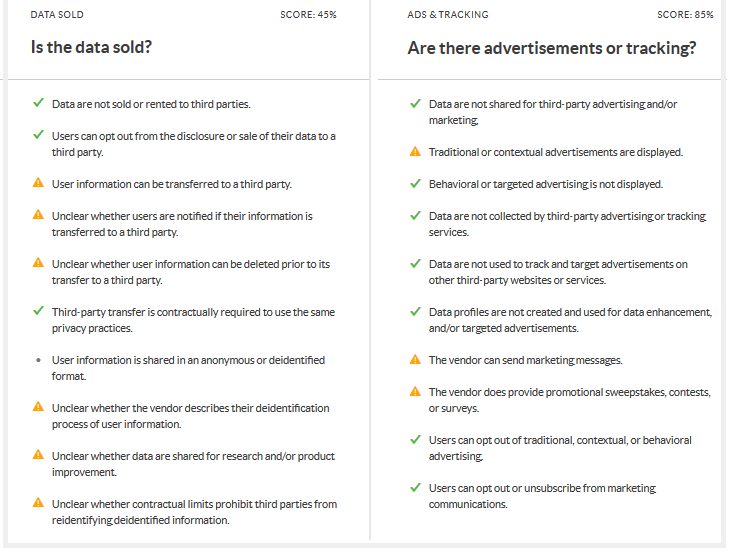 What about the other Cookies and Trackers still on the Zoom for Education page?
Remember when on the Zoom for Education webpage, you will see a pop up box asking if you want to opt out of third parties using your information–we said DON'T IGNORE THIS WHEN YOU SEE IT.   These are the cookie settings you see today when you click  More Info and Advanced Settings, and View Cookies.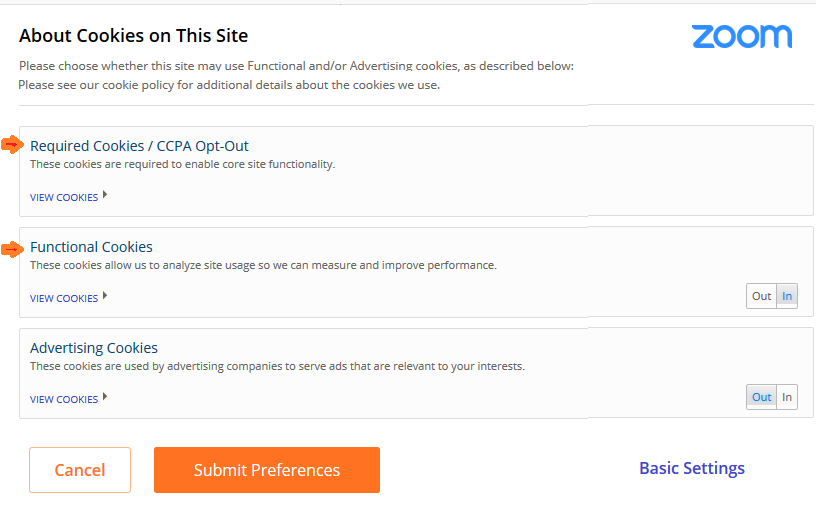 Notice  (orange arrows added) that Functional Cookies are still automatically Opted-In and include third parties like Twitter and Vimeo, New Relic, Salesloft, Milward Brown Digital, Pardot, and PayPal. 
Google (Google ads?) and Zoom cookies are required.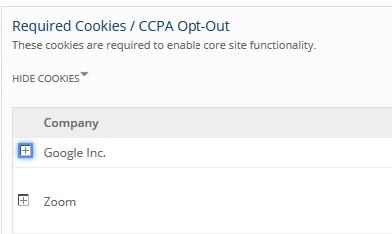 Clicking on Google Inc you see:  "Google operates Google Ads, Display & Video 360, and Google Ad Manager. These services allow advertisers to plan, execute and analyze marketing programs with greater ease and efficiency, while enabling publishers to maximize their returns from online advertising. Note that you may see cookies placed by Google for advertising, including the opt out cookie, under the Google.com or  DoubleClick.net domains.  For more information, see https://policies.google.com/technologies/ads "

Clicking on Zoom you see:  "api.zoom.us, blog.zoom.us, connectnz.zoom.us, facebook.zoom.us, google.zoom.us, imauth.zoom.us, investors.zoom.us, launcher.zoom.us, log.zoom.us, recurly-callout.zoom.us, support.zoom.us, www3.zoom.us, www.zoom.us, zoom.us, zuora-callout.zoom.us"
Functional Cookies automatically opted-in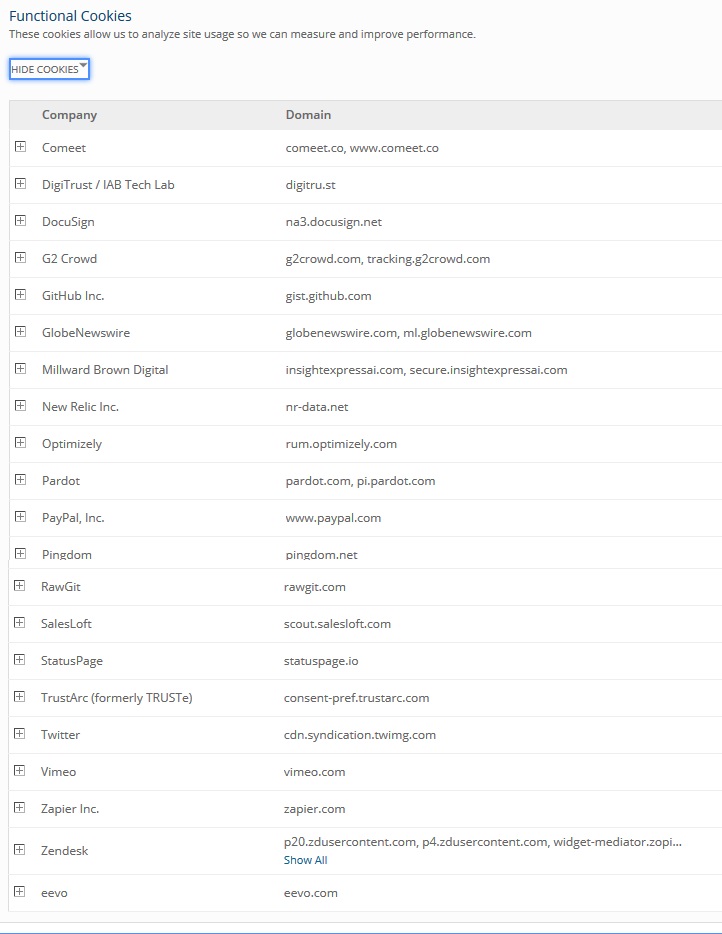 If these screen captures above are too small for you to see, or too buried for you to find, here's a quick little

video

of Zoom's required and automatically opted-in cookies.



Final Notes
The Common Sense privacy evaluation does not mention that, as of March 31, 2020, Zoom is also a Common Sense partner in the Wide Open School initiative, as is Apple and Google.  Bill and Melinda Gates and Google also fund the initiative (no mention of Zoom funding).   As one commenter on Common Sense's Ultimate Guide to Zoom stated, "This is a great article and covers some primary questions I have as a parent. Yet I can't help wondering if this is a promoted post from Zoom!"  I tend to agree.  Better to be transparent and disclose any funding or endorsement or partnership when evaluating a product.
Also, the Wide Open School initiative, which is curated by Common Sense, is meant to encourage schools and parents to implement specific edtech programs during the COVID shift to remote learning. They make the following fine-print disclaimer:
A note on privacy
"While we have tried to favor sites that don't require login, some do require registration. The provided resources include links to external websites or applications that are governed by their own privacy policies or information-collection practices, which may be substantially different from those of Common Sense. We encourage you to review the privacy policies and information-collection practices of any external websites and apps before using them with children. Many organizations have stepped up and made their resources free for kids during this critical time."
In other words, you as an educator or a parent are on your own in trying to decipher whether the privacy protections for a specific program are strong, weak or non-existent.  It would be great if Common Sense, who does edtech privacy evaluations on a
separate website
,  would provide a privacy analysis  of each tool, or at least highlight the specific partners who have "
privacy policies or information-collection practices,
which may be substantially different from those of Common Sense
".  This would help guide the decisions of educators and parents about each of these partner tools Wide Open School is promoting.

Is Zoom for Education a K-12 School Service?
Colorado has a state law that requires contracted edtech (school service providers) to be transparent about the data elements they collect, how the data are used and to list every subcontractor who has access to the data.  Zoom doesn't think they need to comply with this transparency law because they claim, "Zoom is not a School Service and is exempt from the requirements of the law." The Colorado Attorney General's privacy office is investigating whether Zoom threatens student privacy; let's hope the Attorney General enforces Colorado law and requires Zoom to be transparent about how they and their subcontractors and third party apps (with SDKs) use student data now… and since March 2020.

It sure seems like Zoom is a school service:
with a dedicated K-12 Zoom for Education webpage,
separate Zoom K-12 privacy policy,
Zoom white papers, blogs and tutorials for K-12 teachers and students,
Common Sense gave Zoom high ranks for clearly being labeled as serving a school purpose, "primarily used by, designed for, and marketed toward students in grades preK–12."
Zoom is a Wide Open School preK-12 online education resource and partner,
schools are requiring students to use Zoom remotely and recording video sessions and transcripts, students are answering school related questions, turning in school work (These are education records under FERPA.),
Zoom actually described itself as a "K-12 service" in its prior K-12 privacy policies
For purposes of FERPA,  Zoom is considered a "school official"
Zoom is being used as a service in thousands of schools nationwide.

It's difficult to know if  Zoom is a threat to student privacy since Zoom keeps changing its privacy policies and cookie tracking practices, and Zoom won't answer transparency questions about how data elements are used and shared.
What  (little things) you can do to protect your student on Zoom.
In March 2020 we wrote this piece advising parents and educators to seek alternatives to screen time, get outdoors, cover your camera when possible. If your school requires your student to use Zoom, ask your school if your student can keep their camera off. We would add to turn off (opt-out) of  non-essential cookies when possible.  If using your home computer or device, you can install free plug-ins like EFF's privacy badger,  Lightbeam, Ghostery, uBlockOrigin that will also alert you or block third party trackers. You can also use a web browser like Brave or Firefox that will block ads and spyware.
Honestly, as a mom, I think I speak for most parents when I say that Zoom for Education (and all the virtual learning companies) should be required to tell parents how their children's voice and video and data are used, and should be required to let parents know who else has access to our kids' information. These companies should not be allowed to exploit students for marketing and advertising.  This pandemic is tough enough, the last thing parents need is worrying about a company profiling their student.  Parents and teachers are just trying to survive and teach our kids.