Diane Tavenner is appearing in NYC  on Nov. 6, to talk about her new
book with Angela Duckworth, sponsored by the Walton Family Foundation.  You can RSVP here, "for an intimate conversation between two of America's leading CEOs, educators, researchers and mothers." Doors open at 5:30 with a cocktail reception.  According to the invitation, "Each attendee will receive a copy of Prepared and will have the opportunity to have it signed by the author."
As our updated Summit fact sheet explains, the controversial Summit Learning Platform that has aroused such fierce opposition from parents and students alike at public schools across the nation has now been handed off to  a new organization called T.L.P., run by a board led by Mark Zuckerberg's wife, Priscilla Chan.
Diane Tavenner continues to run the west coast chain of Summit charter schools, which are involved in ongoing battles with teachers intent on organizing a new union.  At the same time, Taverner is launching a bunch of new initiatives, including promoting her new book that features advice for parents called "Prepared: What Kids Need For a Fulfilled Life.
The book has its own website as well as a glowing blurbs from Todd Rose, director of Harvard Graduate School of Education,  Angela Duckworth, Linda Darling Hammond and Wendy Kopp.   According to Amazon, the book is #30 in Charter Schools, #65 in Education Leadership   and #97 in Business Education.
The website says that the book will be "Your Roadmap to What Kids Need for a Fulfilled Life" and will educate parents that their children "deserve opportunities to discover their unique interests and talents" as well as  "pursue the lives they want to live—filled with financial security, purposeful work, meaningful relationships, and networks of support."
One might imagine that an essential aspect of a child's fulfillment would mean an ability to attend a school that allowed for meaningful relationships – which would seem to rule out most of the Summit schools, which according to many students  feature excessive screen time and allows for insufficient  human interaction with their teachers and fellow students.
To publicize the book, Summit has hired a "Growth Marketing Director" in charge of "creating and energizing a national community" of "Prepared Parents".  This new organization's goal: "to equip parents with research-based tools and resources to guide their kids towards a fulfilled life…Prepared Parents helps parents cut through the noise to make parenting, learning and school easier."
"Prepared Parents" is a new program within something called Marshall Street Initiatives, an arm of Summit Public Schools.   I hadn't heard anything online or anywhere about Marshall Street Initiatives, but I found the name mentioned in the agenda and board packet of the June 20, 2019 Summit board meeting, in the context of the off-loading of Summit Learning to CZI:
Summit Philanthropy Programs and Marshall Street Initiatives (MSI)-Estimated Need $9.2 [M]
The transition of Summit Learning has been a longer and more difficult process than originally expected. This transition has delayed the initiation of new programs and necessary fundraising. Anecdotally, former grantors have reported excitement about the new initiatives and are glad that Summit has transitioned Summit Learning to its own non-profit. By early fall there will be a more concrete fundraising plan and results in place. There is one grant for $1M that has been received and is deferred until 2019-2020.
Further down in the packet, there are details showing that the Marshall St. Initiatives will cost $10.2 million to start with :
…Philanthropy Programs and Marshall Street Initiatives $10.2M: Pivoting from Summit Learning has launched new programs that require philanthropy and include a new hub of activity named Marshall Street Initiatives (MSI). This group includes the following programs, all funded by philanthropy.
Leadership, Analytics, & Real Estate
Marshall Street Initiatives
○ Summit Teacher Residency
○ Continuous Improvement
○ Summit Extension*
○ School Leader Certification*
○ Prepared Parents*
■ *=new programs
A detailed budget shows that $2.4 million out of the $10. 4 million will be spent on "Leadership", to pay for a new CEO, a new Chief Financial Officer, a new Chief Operating Office and a new Superintendent, each of whom were to receive six-figure salaries.
The packet for the October meeting of the Summit Board describes the goal of the Marshall St. Initiatives this way: "To develop shareable solutions to locally felt, globally evident problems in America's public education system so that every student has the opportunity to pursue a fulfilled life."  It will be headquartered in a new snazzy building at 200 Marshall St. in Redwood City,  a convenient four minute walk from the CZI headquarters at 601 Marshall Street.
The new Initiatives will include a new teacher residency program, a new School Leadership Certification program, the "Prepared Parents" organization, and more.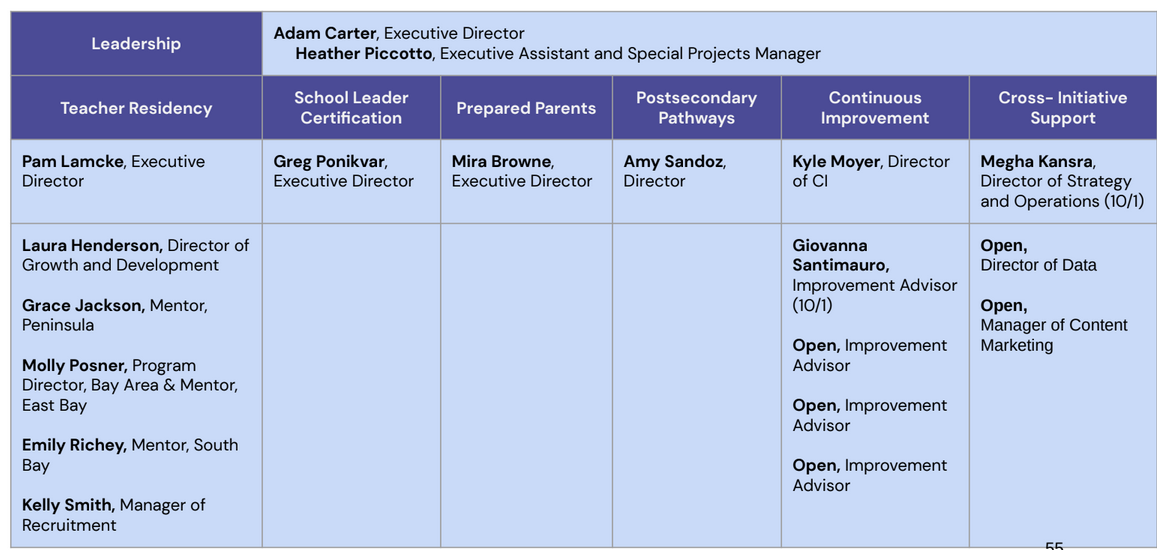 At the same time, the board packet reveals that none of the Summit charter schools in California or Washington made their enrollment targets this year, which has caused an overall revenue shortfall  of nearly $5 million.
In any case, Tavenner seem to be launching three new efforts at once: A new book, a new "Prepared Parents" online community, and a new Institute for teacher and leadership training, all under the aegis of the Marshall Street Initiatives.
Interestingly, there is very little in any of these board packets about T.L.P, that took over the operations of the Summit Learning platform this fall for the approximately 300 public schools that are still using it.
On the Summit website and in an interview,  Andrew Goldin, the Executive Director unconvincingly claims that the acronym T.L.P. stands for "Teachers, Learners, and Partners." Yet the Summit board agenda from June reveals otherwise: "The Learning Platform (TLP-new Summit Learning organization)."  As is often the case, CZI has attempted to obscure the reality of the essentially digital nature of this program in its name, and to emphasize its more human aspects – as they do in much of their promotional materials.
Check out the updated Summit fact sheet here and below, which includes new  survey results from teachers, parents and students at schools using the Summit platform.